Muslim Fulani herdsmen on Monday night (April 26) killed 10 Christians who had taken refuge in a camp for the displaced in north-central Nigeria, bringing to 33 the number of Christians slain in Benue state the past week, sources said.
A survivor of the attack in Abagena, Benue state, David Akiga, told Morning Star News in a text message that "during the attack on us, 10 Christians were killed and nine other Christians were injured" in the camp along the Makurdi-Lafia highway.
About 7,000 people displaced by previous herdsmen attacks live at the camp on the outskirts of Makurdi, the Benue state capital, he said.
On Saturday (April 24), another band of herdsmen attacked five predominantly Christian communities in Guma County, Benue state, killing 17 Christians, according to David Iorhemba, a legislator from the area. The herdsmen invaded Yogbo-Mbayev, Ajimaku, Ayeri, Udei and Tse-Gborigyo, at about 2 a.m., Iorhemba said in a text message.
Three Christians were killed in Yogbo-Mbayev, nine in Ajimaku, one in Ayeri, and four in Tse Gborigyo and Udei, he said.
On April 21 in Guma, Makurdi and Agatu counties, six other Christians were killed in herdsmen attacks, according to Caleb Aba, an official on Guma Local Government Council. Tse-Zoola village in Makurdi, Odugbeho in Agatu and Mbayer-Yandev in Guma were attacked, he said in a text message.
Morning Star News Nigeria Correspondent | Morning Star News | Thursday, April 29, 2021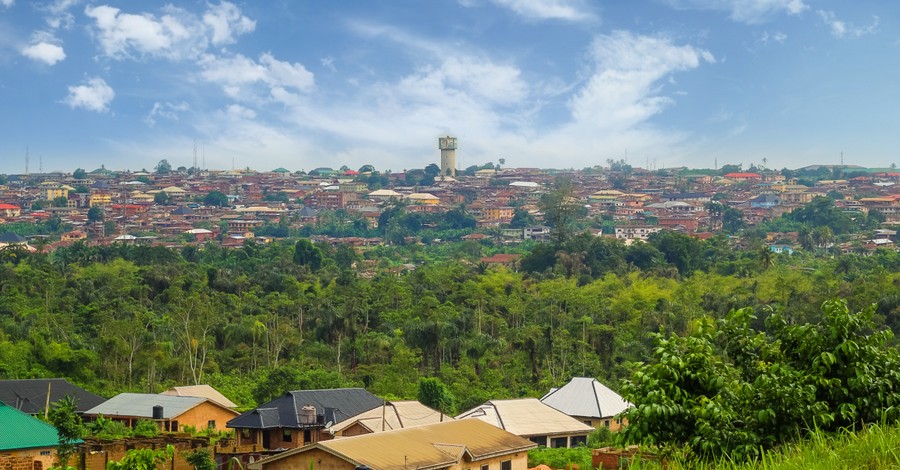 "The attacks on the communities by these Fulani herdsmen occurred on the said day and date at about 9 p.m.," Aba said. "Joseph Babayo, Simon Idewu, Zaki Hyacinth Ajon, and Benjamin Anakula are some of the Christian victims killed by the herdsmen during these attacks."
Benue Gov. Samuel Ortom confirmed the multiple attacks while visiting the camp in Abagena in a press statement from spokesman Terver Akase.
"Gov. Ortom expressed shock over the attack on the displaced Christians and described it as cowardly by men possessed by evil," Akase said. "He said these unprovoked attacks were becoming unacceptable."
More than 70 people were killed in Guma, Makurdi and Gwer West local government areas of Benue state in the last two weeks, he added, with many others wounded.
"I want to say that our patience is being overstretched in spite of our preaching of rule of law and due process," Gov. Ortom said, according to Akase. "You can see that the people are fed up."
Nigeria was the country with the most Christians killed for their faith last year (November 2019-October 2020), at 3,530, up from 1,350 in 2019, according to the WWL report. In overall violence, Nigeria was second only to Pakistan, and it trailed only China in the number of churches attacked or closed, 270, according to the list.
Numbering in the millions across Nigeria and the Sahel, predominantly Muslim Fulani comprise hundreds of clans of many different lineages who do not hold extremist views, but some Fulani do adhere to radical Islamist ideology, the United Kingdom's All-Party Parliamentary Group for International Freedom or Belief (APPG) noted in a recent report.
"They adopt a comparable strategy to Boko Haram and ISWAP [Islamic State West Africa Province] and demonstrate a clear intent to target Christians and potent symbols of Christian identity," the APPG report states.
Christian leaders in Nigeria have said they believe herdsmen attacks on Christian communities in Nigeria's Middle Belt are inspired by their desire to forcefully take over Christians' lands and impose Islam as desertification has made it difficult for them to sustain their herds.
The APPG report noted that tribal loyalties cannot be overlooked. "In 2015, Muhammadu Buhari, a Fulani, was elected president of Nigeria," the group reported. "He has done virtually nothing to address the behaviour of his fellow tribesmen in the Middle Belt and in the south of the country."
The U.S. State Department on Dec. 7 added Nigeria to its list of Countries of Particular Concern for engaging in or tolerating "systematic, ongoing, egregious violations of religious freedom." Nigeria joined Burma, China, Eritrea, Iran, North Korea, Pakistan, Saudi Arabia, Tajikistan and Turkmenistan on the list.
In a more recent category of non-state actors, the State Department also designated ISWAP, Boko Haram, Al-Shabaab, Al-Qaeda, Hayat Tahrir al-Sham, the Houthis, ISIS, ISIS-Greater Sahara, Jamaat Nasr al-Islam wal Muslimin, and the Taliban as "Entities of Particular Concern."
On Dec. 10 the prosecutor of the International Criminal Court, Fatou Bensouda, issued a statement calling for investigation into crimes against humanity in Nigeria.