The prevalence of a "watered-down" gospel and the culture's shift to a secular age are the leading concerns among Protestant pastors about the Christian church in the United States, according to a new Barna survey.
Barna surveyed 547 U.S. Protestant pastors and asked them which issues they believed were a major concern facing the U.S. Christian church. 
Seven issues topped 50 percent: Watered-down gospel teachings, 72 percent; culture's shift to a secular age, 66 percent; poor discipleship models, 63 percent; addressing complex social issues with biblical integrity, 58 percent; prosperity gospel teachings, 56 percent; reaching a younger audience, 56 percent and political polarisation in the country, 51 percent. 
Three issues topped 40 percent but failed to reach 50 percent: Negative perceptions of the church, 46 percent; the diminished influence of churches in the community, 45 percent and church leader burnout/exhaustion, 40 percent.
Few of those issues, though, were mentioned as a major problem when pastors were asked – in a separate question – to list their major concerns for their own church. On that list, only two issues topped 50 percent, with a total of nine reaching at least 20 percent: Reaching a younger audience, 51 percent; declining or inconsistent outreach and evangelism, 50 percent; declining or inconsistent volunteering, 36 percent; stagnating spiritual growth, 34 percent; declining attendance, 33 percent; biblical illiteracy, 29 percent; declining or unpredictable giving patterns, 28 percent; lack of leadership training and development, 23 percent and not reflecting the demographic of the community, 21 percent.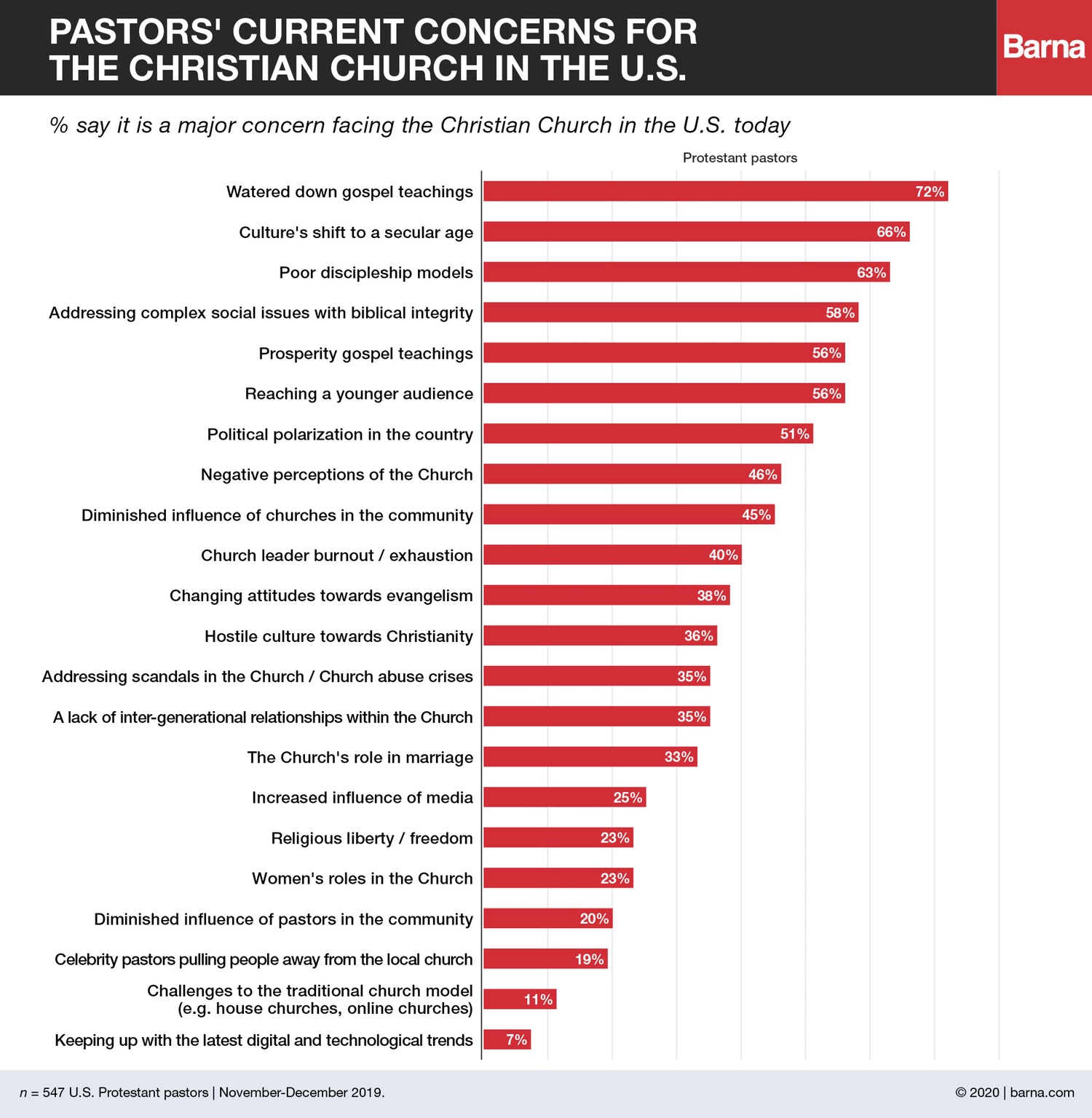 "It's worth noting that many of the possible issues listed above regarding the Christian Church in the U.S. generated a strong general response compared to the more localised ones," a Barna analysis said. "This full ranking alludes to many of the opportunities, debates and divisions taking place within the Church right now, from leader burnout to church abuse scandals to women's roles in ministry."
The survey was conducted between Nov. 15 and Dec. 17 and released Feb. 3, 20202.