A young Nigerian Muslim lady has opened up on how she hides to read the bible and enjoys a special peace whenever she reads it.
This young lady identified as Fatima Yusuf made the bold revelation in a recent social media post on her Twitter handle.
Her tweet below, reads: "I have been secretly reading the Bible for 6 months now, there's just something about it that brings me peace. How can something that they say is wrong, feel so right?"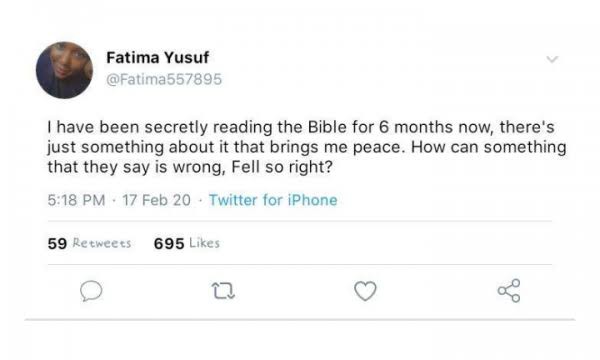 This is just one of many beautiful stories narrated by Muslim converts to Christianity, or Muslims who have found and embraced the truth in the salvation of Jesus Christ but are afraid to make a public profession of their faith for greater fear of being murdered or disowned by their family members.
But Grace knows best to bestow and glow, even as young Fatima has revealed she intends to stick with this new found peace by profusely reading the Bible on a regular basis.