An Illinois church's recent promotion of drag queen shows during its Sunday morning service was an example of "open revolt" against God's intent for humanity, says a prominent author and theologian.
Albert Mohler, president of Southern Baptist Theological Seminary in Louisville, Ky., says the church – Hope United Methodist Church in Bloomington, Ill. – is promoting a "different" religion than Christianity.
The church was featured in an April 15 story in Religion News Service, which spotlighted 23-year-old Isaac Simmons, the church's director of operations who goes by the name of "Ms. Penny Cost" as a drag queen.
The church held a "Drag Sunday" on April 11 in which drag artists sang, prayed and performed. A drag speaker during the service said the goal was "celebrating and uplifting the voices of drag artistry within the church." Drag itself, the speaker said, is "divine."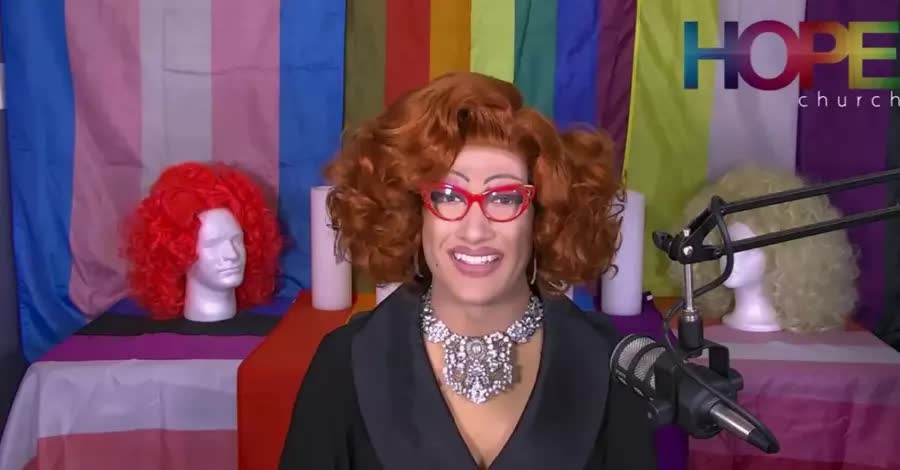 The Illinois Great Rivers Conference's Vermillion River District Committee on Ordained Ministry recently certified Simmons as a candidate for ministry, RNS reported. He likely is the "first drag queen certified" in the United Methodist Church, the news outlet said.
Mohler said the church is rejecting the core teachings of Christianity. Speaking on his podcast The Briefing, he called it "an intentional refutation and revolt against the very order of creation that God has given us," and a "direct violation of the clear teachings of Scripture concerning the fact that those whom God has made as men should identify as men and those whom God has made as women should identify as women.
"That is found in paralleled scriptural teachings, by the way, in both the Old and New Testaments," Mohler said.
It "would have been unthinkable" at "virtually any point" in Christian history for a church to embrace drag shows, Mohler said.
"It's because Christians were operating out of a Christian biblical understanding," he said. "This is open revolt, and of course, you're going to see a division between those who are appalled by it – deeply troubled by it, deeply concerned by it and opposed to it on the one hand – and those who celebrate it and say that it's arrived far too late on the other hand.
"Just to state the obvious, you're looking not only at two different positions, as we will understand, you're looking at two different religions, and those two different religions cannot possibly continue to exist in one church or in one denomination."
Referencing churches that embrace drag, Mohler said, "There is virtually nothing left of the historic Christian tradition."
Mohler predicted a further divide between conservatives and liberals within the United Methodist Church.
"Once conservatives are out of the picture in the United Methodist Church, this is only the start of where things will go in the future," he said. "And yes, right now, much of it is unimaginable, but it won't stay unimaginable for long."
A Christian woman who asked not to be identified, said in a bid to attain liberalism and 'express oneself freely,' most Americans have gone completely over the edge with liberal ideologies that will eventually self-destruct, unless they make a U-turn and set things right with God, their maker.
She expressed sadness at the speed with which everything representing God is being torn out of the American constitution, ranging from the slogan; 'America, God's Own Country,' 'In God We Trust,' taking prayers out of schools and Christian teachings out of school curriculums. Rather than glorify God, they choose satanism and depravity by celebrating these openly, through LGBTQ+ groups, gay characters in children cartoons, and other virtual materials in the media. She concluded that America needs God's mercy and revival for survival.